Veterinary & Animal Weighing Scales Manufacturers in Tiruppur, Tamilnadu - Tiruppur
Tuesday, 27 May 2014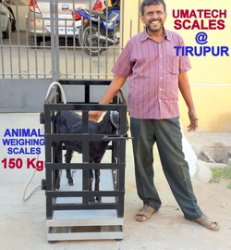 Item details
City:
Tiruppur, Tamil Nadu
Contacts

Umatech Weighing Scales

+91-8220572205
Item description
UMATECH SCALES -Leading Animal Weighing Scales Manufacturers in Tamilnadu.
UMATECH SCALES -Leading Manufacturer & Supplier of Veterinary scales & Animal Weighing Scales in Tamilnadu, INDIA. Our Veterinary Weighing Scales includes a wide variety of designs and sizes to meet your specific needs & Suitable for Weighing Purposes like Animal Weighing, Livestock Weighing, Poultry Weighing, Macheri Sheep Weighing, Chicken Weighing, Goat & Sheep Weighing, Cattle Weighing, Emu Weighing, Cows Weighing, Horse Weighing, Domestic Animals Weighing, and Pets Weighing. Our Special Designed Scales includes dog scales, cat scales, equine scales and exotic animal scales. All veterinary scales are tested and calibrated and feature a full manufacturer's warranty.
Umatech's Animal Weighing Scales are easily available at very reasonable price in market. Our animal Weighing Scales are highly in demand due to their unmatched quality and unbeatable price in market. These are duly tested by by our experienced professionals on various quality parameters. As well as Veterinary Scales are Necessary for so many reasons. Not Just for a veterinarian in there office but on the farm to weigh hogs, nursery pigs, alpacas, sheep, goats or other livestock. At home to keep track of the weight of your cat or dog. Umatech Scales, offer a wide range of Cattle Weighing Scales. Weighing scales reveal your weight status that can be compared to the weight of others of same height and structure and thus make judgments over whether you are under or overweight, and whether you are recovering or worsening from a disease. We offer weighing scales which has been procured from reliable vendors across the globe. Durable and sturdy these weighing scales are available in standard as well as customized models. Our range is used in various industries especially in medical field. These are available in compact designs and competitive prices.
No matter what type of Veterinary weighing scales are required, UMATECH offers the best compromise between price, quality and durability as UMATECH rightfully achieved its position as India's leading weighing company by putting the needs of their clients and their animals first and foremost. These are duly tested by our experienced Weighing Scale professionals on various quality parameters. They are developed with the help of the best available technology and efficient procedures. They are offered in different specifications, sizes, shapes and designs. Veterinary Scales are highly in demand due to their unmatched quality and unbeatable price in market. We are leading Animal Weighing Scale manufacturers and suppliers in Tirupur, Coimbatore, Erode, Salem, Namakkal, Madurai, Kerala, Tuticorin, Pondicherry, Cochin, Trichy.
Platform Sizes (mm)400X400600X6001000X2000 2000X3000
Capacity100 Kg500 Kg1-3 ton 1-5 ton
Accuracy10 gm50 gm500 gm 1 Kg
SpecificationsMS-Constructions, JUMBO Green Bright LED
FeaturesSolid Export Quality, For Rough Usage, Customized Size
Available, Easy Installations, Accurate Animals Weight, Zero Maintenance. Cage With Railing Options with Handle
Recommended for Veterinary and Animal Weighing Purposes.
Suitable for: Veterinary Clinics, Livestock Farms, Weighing of Pet animals, City Zoo or Animals Park, Animal husbandries, Veterinary Hospitals, Dairy Farms, Animal Parks, Zoo, Animal Health Research Laboratories, Animal Health & Nutrition Centers, Poultry Research Stations, Zoonosis Research Laboratory, Veterinary College, Animal Research Institute, Veterinary University Training & Research Centers, Small & Large Animal Weighment, Pet Clinics & Shops.
Umatech Weighing Scales is one of the Leading VETERINARY WEIGHING SCALES MANUFACTURER IN TAMILNADU, TAMILNADU VETERINARY & ANIMAL WEIGHING SCALES MANUFACTURER, ANIMAL-WEIGHING-SCALES, ANIMAL WEIGHING SCALES MANUFACTURER TAMILNADU, INDIAN VETERINARY WEIGHING SCALES SUPPLIER, VETERINARY WEIGHING SCALES TAMILNADU, LIVESTOCK WEIGHING SCALES, CATTLE WEIGHING SCALES, DOMESTIC ANIMALS WEIGHING SCALES IN TIRUPUR, VETERINARY SCALES MANUFACTURER IN TIRUPUR.